how fitting for Hongdae :)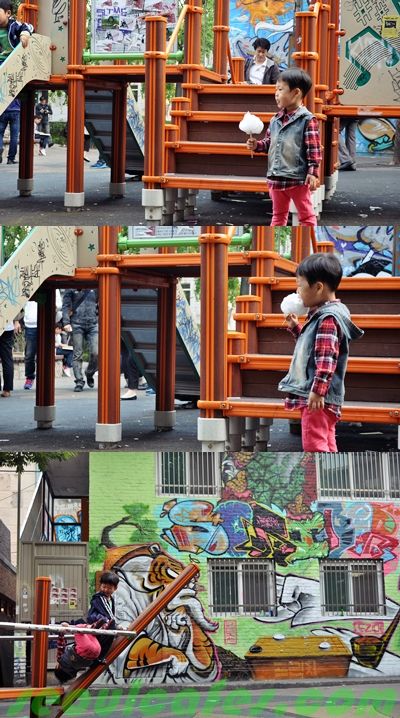 at a playground in Hongdae "flee market" park, also called "hong-ik-gong-won", or "hong-il-children's park".
oh it's not a huge park at all~ but it's a fun place on the wkends where flee markets and performances are held.
there was one a very confusing act when a man was patrolling a naked female mannikin (and touching it erotically) while a band was playing. we thought he was part of act/band, but later realized that he was definitely not any part of it.
it gets pretty interesting in hongdae. people dont look the same. you will see more ripped clothing/piercings/colors compared to the other "areas" of seoul, like SHINSA. shinsa and hongdae are two very different areas.
but i find that very appealing about seoul. there are different "areas" with all different personalities in this city. itaewon being a "multi cultural" area, kangnam as the "young crowd" area, non-hyun-dong being the "salary men" area, apgujeong as the "im all that" area, hongdae as the "free spirit artsy" area....so on~ and these areas change over time and new "areas" emerge as well. Shinsa being one of the newest one. Hongdae has stayed as the artsy area for a while now and I don't think it's going to change anytime soon. Some know it for the "clubs" at nights, but it is a different place during the day time. You will find cute cafes hiding somewhere around the corner~ it's a nice place to get lost~
You can get off at HONGDAE, HAPJEONG or SANGSU station to explore the "hongdae" area. it takes about an area of 3 subway stops. Again, don't be afraid to get lost~~ Seoul is safe and it's not as big as it sounds. But if you end up getting lost, you can get a taxi and get back to where you want to be safely. Taxi fares are not expensive btw. So get your most comfortable gears on (shoes-outfit) and take a walk around "hongdae" area~~ that's how you really get to see the city~^^