i baked my first custard tarts earlier this week~ and it was a success!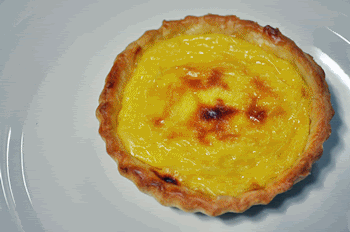 i got the recipe from pastrystudio.blogspot.com~ (recipe below)
with a little bit of patience and diligence in my part, it been fun baking my own sweet treats~ :)
Custard Tartlets
Makes 12 tartlets
Pâte Brisée
1 1/4 C flour
1 t sugar
1/4 t salt
4 oz (1 stick) cold butter
1/4 C cold water
Pastry Cream
1 C milk
1/4 C + 2 T sugar
3 yolks
1 T cornstarch
1 t flour
1/2 t vanilla
1 t rum
1/2 T butter
For the dough, place the flour, sugar and salt in the bowl of a food processor and combine. Cut the cold butter into small pieces and add. Pulse a few times just until the butter is in small pea-sized pieces and the mixture resembles a very coarse meal. Add the cold water and pulse just until the mixture starts to clump. Pour the dough out onto a sheet of plastic wrap and gather it into a ball. Wrap and refrigerate for a couple of hours or overnight.
Place the dough on a piece of parchment or work surface lightly dusted with flour. Let it sit for a few minutes to take the chill off. Roll out to a thin sheet, nearly 1/16" or so. Cut out a dozen 3 1/2" circles and tuck each into a standard muffin pan. Chill while you make the pastry cream.
Place the milk in a saucepan and bring to a simmer.
Whisk the egg yolks and sugar until combined. Add the cornstarch and flour and whisk thoroughly.
Pour about half the warm milk into the egg yolk mixture, whisking constantly. Pour the remaining milk and combine thoroughly. Return the mixture to the saucepan and cook over low heat. Bring to a boil, whisking constantly for a couple of minutes until thickened and smooth.
Take off the heat and add the vanilla, rum and butter. Stir until smooth.
Place a piece of plastic on the surface and let cool.
Preheat the over to 375 degrees.
Prick the bottom of the tart shells with a fork. Bake for about 15 – 20 minutes or until slightly browned and crisp.
Remove from the oven and scoop the pastry cream into the pastry shells.
Bake for about 15 – 20 minutes.